Many people rely on a daily weather forecast to help them plan their day. Often, an accurate weather forecast is crucial for traveling, event planning, or for those who are pilots, boaters, or outdoor workers. In addition to short term forecasts, weather news also provides a bigger picture of changing climate conditions and issues like erosion, flooding, hurricanes, tornados, and other natural disasters. Technology has made accessing weather forecasts, satellite and radar images, and regional travel advisories easier than ever.
Browse the headlines below to find the latest information on current weather news and events from around the globe.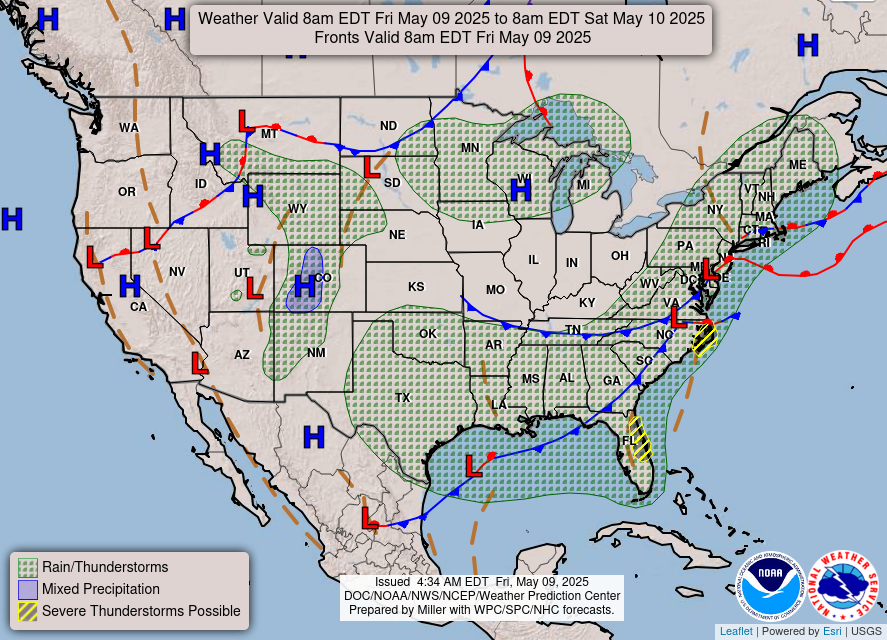 Click this weather map
thumbnail to display
a large weather map.
National Weather Service


Weather news and information from the US Department of Commerce, National Oceanic and Atmospheric Administration.
NOAA.

Tropical Storm Odette Forms Off Mid-Atlantic Coast


The storm is expected to bring dangerous surf conditions to the northeastern United States before unleashing strong winds and heavy rains in Newfoundland, forecasters said.
The New York Times. New York Times. Fri, 17 Sep 2021 21:27:00 +0000.

Chicago Weather: Mostly sunny, PM rain chance Friday


Mostly sunny, rain chance late in the day on Friday. Highs in the upper 80s.
Wls. ABC News. Fri, 17 Sep 2021 17:08:17 +0000.

Flood advisories continue for Southeast, potential storms could develop in Atlantic


Flood watches and warnings are still in effect on Friday from southeastern Louisiana to the Florida Panhandle as locally heavy rain from the remnants of Nicholas continues.
Janice Dean. Fox News. Fri, 17 Sep 2021 12:59:23 GMT.

Five million under flood warnings as Hurricane Nicholas hits US south


The storm was hovering over the central Louisiana coast, according to the National Weather Service's Weather Prediction Center on Thursday.
Daily Mail. Fri, 17 Sep 2021 10:06:19 GMT.

Will ETFs Suffer as US Industrial Output Falls in August?


The latest update on U.S. industrial output looks disappointing, largely due to damages by Hurricane Ida and crunch in raw material supplies and labor due to the pandemic.
Sweta Jaiswal, Frm. Zacks. Thu, 16 Sep 2021 21:48:00 GMT.

When a Natural Disaster Hits, Structural Engineers Learn From the Destruction


StEER engineers assess why some buildings survive hurricanes, tornadoes, earthquakes and tsunamis, and why others do not
Smithsonian. Thu, 16 Sep 2021 19:02:02 +0000.

Storm Nicholas moves over Louisiana, drenching US Gulf coast


The storm is dumping heavy rain on southern Louisiana, the coasts of Mississippi, Alabama and parts of Florida.
Al Jazeera. Wed, 15 Sep 2021 17:36:23 +0000.

Texas submerged and a flying shark: Footage shows devastation of storm Nicholas as it heads for Louisiana


Fourteen inches of rain dumped on Gulf Coast, where 200,000 were still without power
Gino Spocchia. The Independent. Wed, 15 Sep 2021 13:38:49 GMT.

Serious deficit on oil market unlikely, says Russian energy ministry


Earlier, OPEC downgraded its outlook for 2021 on oil supply from non-OPEC states by 170,000 barrels per day, including due to Hurricane Ida in the US
Tass. Wed, 15 Sep 2021 15:17:10 +0300.

Tropical Storm Nicholas Knocks Out Power For 515,000 Texas Homes


It has hit more than 115,000 homes in the Houston Area.
By Graison Dangor, Forbes Staff. Forbes. Tue, 14 Sep 2021 10:47:35 -0400.

Southern France lashed by heavy rain, thunder and flooding


Southern France has again been hit with heavy rain, thunderstorms and flooding after a similar deluge just days ago.
Sky News. Tue, 14 Sep 2021 13:12:00 +0100.

Tropical storm Nicholas brings heavy rain to Texas and Louisiana


Meteorologists warn of life-threatening flooding, power outages and storm surges.
BBC News. Tue, 14 Sep 2021 10:01:06 GMT.

Hurricane Nicholas Makes Landfall Along Texas Coast


National Hurricane Center says storm likely to produce life-threatening conditions along the Texas coast through Wednesday.
Voice of America. Tue, 14 Sep 2021 02:39:43 -0400.

Tropical Storm Nicholas headed toward Texas coast


Tropical Storm Nicholas is expected to bring strong winds and heavy rainfall to the Texas coast Monday before moving on to Louisiana.The southern part of Texas' coast is under a tropical storm warning issued by ...
Sarah Polus. The Hill. Mon, 13 Sep 2021 00:37:21 +0000.

Tropical Storm Nicholas churns towards Texas coast


Forecasters said Nicholas could near hurricane strength by the time it makes landfall.
Straits Times. Mon, 13 Sep 2021 08:21:19 +0800.

Tropical Storm Nicholas Could Bring Flooding to Louisiana


The storm is expected to produce heavy rainfall in areas recently ravaged by Hurricane Ida.
Voice of America. Sun, 12 Sep 2021 18:53:12 -0400.

TRNSMT festival: Up to 50,000 music fans arrive at Glasgow Green


The three-day event will see performances from artists including Liam Gallagher, Snow Patrol and Amy Macdonald.
BBC News. Fri, 10 Sep 2021 18:23:58 GMT.

Lightning, fire, flash floods: California gripped by extreme weather


Severe lightning and thunderstorms spur shelter-in-place warnings, rockfalls and mudslides, and the threat of new ignitions to already massive wildfires.
Hayley Smith. Los Angeles Times. Fri, 10 Sep 2021 16:31:54 GMT.

Outrage as naked 5-year-olds paraded in Indian village rain ritual


Six young girls were stripped naked and paraded through a village in northern India as part of a ritual to summon rains, sparking outrage across the country.Video footage from the drought-stricken village in the Bundelkhand ...
New Zealand Herald. Wed, 08 Sep 2021 12:23:15 +1200.

Biden touts climate change agenda on storm devastation tour


President Biden on Tuesday used a trip to survey the destruction across New York and New Jersey from the remnants of Hurricane Ida to push his climate agenda. ...
Tom Howell Jr. and Jeff Mordock. Washington Times. Tue, 07 Sep 2021 17:50:25 -0400.
---
Copyright © 2008-2021 News-Articles.org. All rights reserved.
About Us
.